The Family Study Space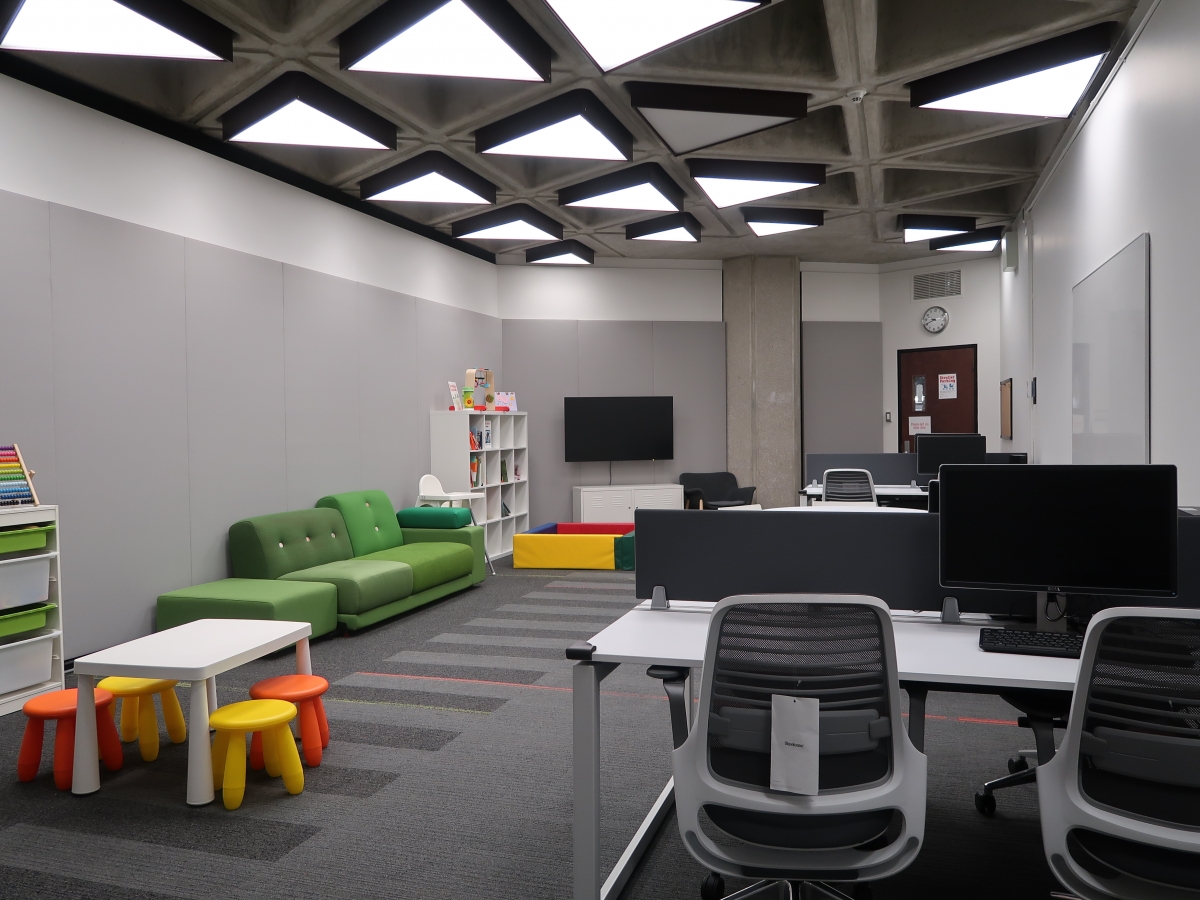 Robarts Library welcomes children.
What is the Family Study Space?
A room stocked with children's toys, books, chalkboard, whiteboard, computer stations and more, so that parents or guardians can conduct their research while supervising their little ones at the library. For a full list of what's available in the space, please see our inventory.
Who can use the Family Study Space? 
Current students, faculty members, visiting scholars, and staff at the University of Toronto who bring their children (12 years old or under) to Robarts Library.
How to access the Family Study Space?
The space is accessible by key-fob access only. It is located in room 9002, in the core area of the 9th floor at Robarts Library. To obtain a fob, free of charge, you'll need to register with the Robarts Library carrel office using the form linked at the bottom of this page. Once your eligibility is confirmed, you'll be notified via email to drop in and pick up your key.
All key-fobs to the Family Study Space expire on September 30th, annually. Once you have a fob, renewing your access for each academic year requires an in-person visit to the Carrel Office, and depends on continued eligibility.
There is a $15.00 replacement charge for each fob that is lost.
Family Study Space usage policies
Parents/guardians must have their children (12 years of age or under) present to use the space.
Children may not be left alone without their parents/guardians in the Family Study Space at any time.
Parents/guardians are responsible for their children's safety and behaviour.
Library staff can neither supervise children nor be responsible for their safety.
The Family Study Space is available on a first come, first served basis.
The room has a capacity of 20 adults and children at one time.  
Parents/guardians are expected to clean up after themselves and leave the room in good condition for the next users, including erasing the whiteboard and disposing of trash.
Parents/guardians must use the washrooms for diaper changes and disposal of soiled diapers.
Users must vacate the Family Study Space 30 minutes before Robarts Library closing time.
Fob access expires September 30th annually. Contact the Carrel Office to renew. 
Violation of these or other applicable library policies may result in loss of access to Family Study Space.
Questions or general feedback: carrel.applications@utoronto.ca