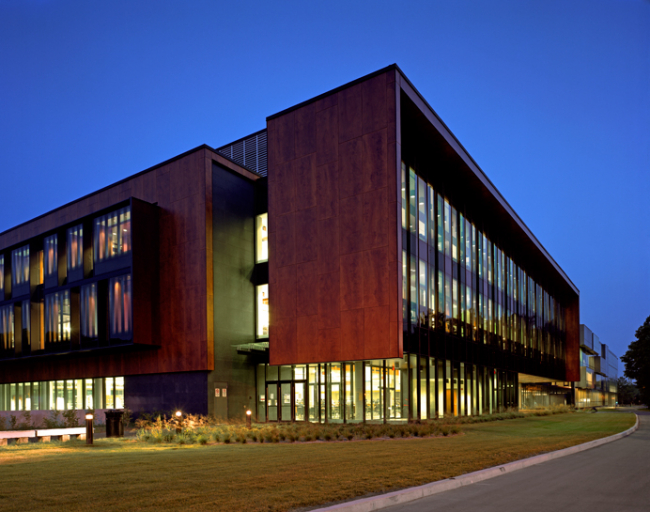 Contact
Location
3359 Mississauga Road North
Mississauga, Ontario L5L 1C6
About
The University of Toronto Mississauga Library is a collaborative academic hub situated in the award winning Hazel McCallion Academic Learning Centre (Silver LEED certification). Focused on 'people' space, the Library provides flexible, innovative services and places for the UTM community to interact with scholarly materials, technology and each other. Set within the beautiful natural landscape of the UTM campus, the library is a veritable "home away from home" for students who spend countless hours engaged in learning activities. The building design is inspired by the metaphor of a Japanese puzzle box, with collections and computers at the centre and generous perimeter spaces that support quiet study and learning.
Subject Areas
Arts, Business & Economics, Health sciences, Humanities & Social Sciences, Law, Science & Engineering
Collection Strengths
The UTM Library collection, totaling approximately 400,000 volumes, supports the research needs of UTM students, faculty and community. Along with academic books and journals collected to support the UTM curriculum, the UTM Library contains collections of DVDs, maps and recreational reading materials. The large and extensive electronic resources collection at the University of Toronto can be accessed at the UTM Library and remotely. The UTM Archives, including specialized collections of photographs and historical documents, is housed within the Library.
Eligibility
One of the rooms on the 1st floor is for graduate students only. All other rooms are available to all currently registered U of T students for academic purposes or other University-related projects.
Locations:
Levels 1, 2, 3 of the library and next door on the second floor of UTM's Instruction Centre.
Bookable:
Yes (29 of the 30 rooms).The graduate student study room is available on a first come first served basis.
Number of study rooms:
30 (19 in the Library, 11 in the UTM Instruction Centre)
Special features:
One of the study rooms on level 1 is a graduate student study room in which every wall is a whiteboard. All other study rooms contain whiteboards, tables and chairs.