Originally published by U of T News on June 2, 2023 
By Scott Anderson
(photo by Lisa Sakulensky)
Michael Walsh enjoyed a highly successful career as an investment banker – but he never left schooling in philosophy behind, channeling his interest in the subject into building a rare book collection of some of the most important works of philosophy in the Western canon.
In 1999, after carefully assembling several thousand volumes, he donated them to the University of Toronto's Thomas Fisher Rare Book Library – in the hope that scholars around the world would be able to use them to develop new philosophical insights.
Today, for his outstanding service to U of T through his commitment to the Thomas Fisher Rare Book Library and his gift of an extraordinary resource – the Walsh Philosophy Collection – F. Michael Walsh will receive a Doctor of Laws, honoris causa from the university.
A financial executive for most of his career, Walsh, earned both a bachelor of arts and a master's degree in philosophy the University of Guelph. He earned an MBA from York University in 1975, graduating with a specialization in economics and public administration.
He thought he'd become a professor, but a chance meeting changed that. "I visited a broker for another purpose, and by the end of the day I had a job, although I hadn't taken any specialized courses in finance or investments," he recalled. "To be honest, I was very surprised and somewhat worried."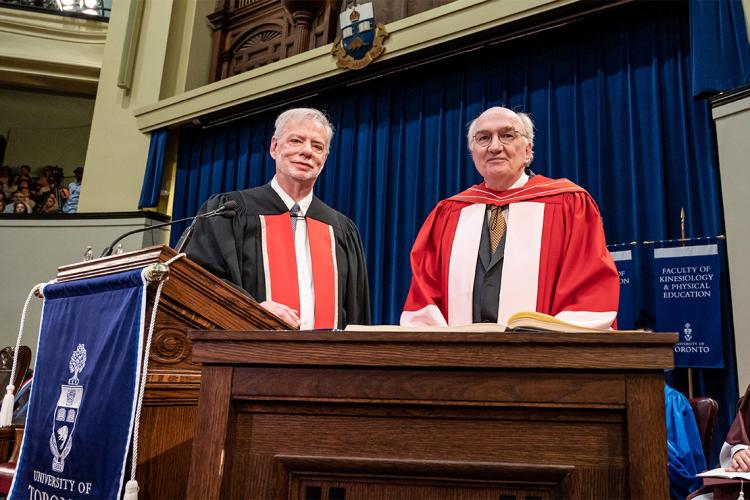 Walsh spent more than two decades in the fast-paced world of investments, ultimately serving as senior vice-president, secretary and director of First Marathon Securities. But he maintained an interest in philosophy, and completed a PhD in the subject at the University of Guelph in 1992.
Along with his passion for philosophy came a love of books – not just for reading but as physical objects. When he landed a job in the investment business, he decided to start a collection. "I became especially interested in books of philosophy and ideas," he told University of Toronto Magazine in 2012.
In that interview, he recalled his first big purchase – a first edition of Scottish philosopher David Hume's A Treatise of Human Nature (1739). He paid $11,500, handing over a cheque to the antiquarian bookseller who had contacted him. "This was 20 times more than I had previously spent on an 'expensive' book – a very big leap," he said. "That was when I knew there was no turning back as a collector. I was hooked!"
With volumes covering western philosophical thought from before 1500 through to the 20th century, the F. Michael Walsh Collection is a valuable resource for philosophers, theologians, historians and students at U of T and in the broader community. The collection helps the university attract the world's best philosophy students and researchers, and has raised U of T's profile as the home of one of the leading rare book libraries in the world.
To ensure that the library can augment the collection with important works as they become available, Walsh and his wife Virginia, who also studied philosophy, created the Walsh Philosophy Endowment. "Several years ago, we decided that we wanted the collection to have a 'life' beyond that which was allotted to me," Walsh told The Halcyon, the Fisher Library's newsletter. "I look forward to working with the Fisher's librarians, until my demise, to find many more fine acquisitions."
Walsh's involvement with the library extends beyond the collection and endowment. He served for more than a decade as the chair of the Friends of the Fisher Library Steering Committee, and still advises on acquisitions of unique rare books.
He has also served as a corporate director for several companies and an advisor for the Ontario Securities Commission. Among the honours he has received are the Queen's Golden Jubilee Medal and U of T's Arbor Award.
In his convocation address today to students graduating from the Faculty of Information and the Faculty of Kinesiology & Physical Education, Walsh will speak about the lifelong benefits of their U of T experience. "Your education here at Toronto has hopefully taught you some things of incredible value: how to best make use of your natural abilities; how to think and communicate; how to adapt; and it has helped you to build your character. These are the things that will be determine your success, no matter what you do: either the career you now dream of, or like me, something totally unanticipated."